C-R-M +
Gaming
Put Your C-R-M Skills to the Test
Are you ready for the challenge? CRMSynced is a new, interactive game that tests HCPs on using a holistic treatment approach that prioritizes their patients' overall cardio-renal-metabolic health.
Dr. Eugene Wright: Hello I'm Eugene Wright. Let's get started with this game, CRMSynced. The cardio-renal-metabolic system is an interconnected system that connects the kidneys, the heart, and the endocrine system. We need to think about a very holistic approach, not just treating one disease or one organ system, but treating the entire cardio, renal and metabolic system.
Dr. Eugene Wright: Dr. Howie Feelin', that's me, Primary Care Physician, jack of all trades. I am ready for it, I'm psyched.
Dr. Eugene Wright: So, what can we do to protect the heart, the kidneys and the metabolic system? One is recognition and awareness. Two, early detection and three, early and aggressive treatment.
Dr. Eugene Wright Yay! The idea is not to ace the game but to actually use it to inform better decisions. It's time to make holistic care a priority. Start by making sure you're CRMSynced.
Multidisciplinary
Care Checklist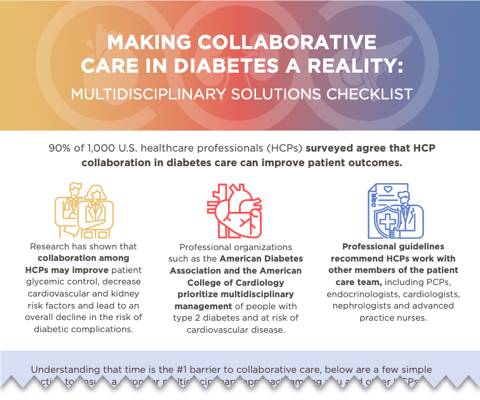 Making Holistic Care a Reality
Professional society guidelines recommend HCPs work with other members of the diabetes care team, including PCPs, endocrinologists, cardiologists, nephrologists and advanced practice nurses, for patients with interconnected conditions. Download the Multidisciplinary Care Checklist to learn more.
File size: 111K